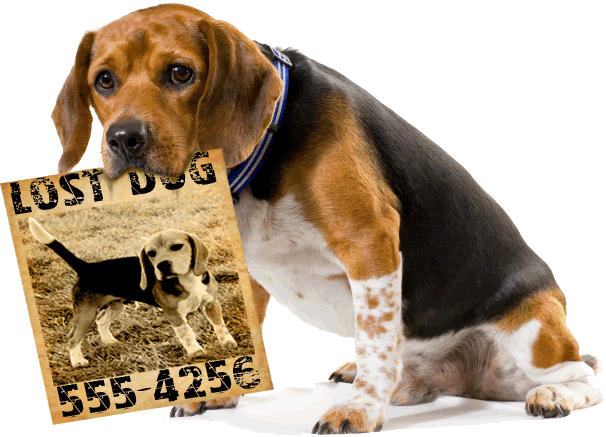 If your dog runs away, time is not on your side. You will need to act quickly and cover as much
ground as possible in as little time as possible. Looking for a run away dog is much more
efficient if you can find someone to help you. One person can drive around and look for the dog,
and the other person can start calling animal shelters and veterinarian clinics in the area.
 
Animal Shelters - Denver and surrounding areas:

Aurora Animal Shelter
303-326-8280

Denver Municipal Animal Shelter
720-337-1800

Denver Dumb Friends League
303.751.5772

Adams County Animal Shelter - Brighton
303-288-3294

Humane Society of the South Platte Valley - Littleton
303-703-2938

Foothills Animal Shelter - Golden
303-278-7575

Dumb Friends League Buddy Center - Castle Rock
303-751-5772
DO NOT wait any longer than 24 hours to:
 
Begin distributing lost fliers immediately. Always keep an up to date photo of your handy to ensure that you have an accurate picture of your dog in the event of a run away emergency Leave the fliers on cars, in mailboxes, and in front of stores and gas stations.
Place an add in the local newspaper immediately. Some newspapers will run a lost dog add for free. Denver Post 303-825-2525
Post on Craigslist and NextDoor (a free social network for your neighborhood) Facebook Colorado Lost & Found Pets , Colorado Lost & Found Dogs , Lost Pet Alert -Colorado Springs, Colorado Lost Dog Search & Recovery , Missing Pets of Denver ,
Get a professional Pet Recovery Service involved ( some of them offer a limit service for free, like emailing to Shelters & Rescues and creating flyers) Lost my Doggie , FindToto , Paw Boost , Pet Amber Alert ,
You see a stray dog running at large
Sometimes we see a stray dog on our way to work or to an appointment and there is no time to capture the dog. As we are animal lovers, the least we can do is pull over for a couple of minutes and call the local Animal Control department. Give them a description of the dog and let them know the cross streets where he/she was spotted. Below you will find the phone numbers for the Animal Control departments in the Denver Metro Area. You will also find a printable version you can keep in your car. Later, you can also look for lost dog flyers in your neighborhood, look for adds on Craigslist, Next door or Facebook and if you feel the description fits the dog, please inform the owner when and where you saw the dog.
YOU can be of vital help in saving a life! Thank you for caring!
 

Animal Control - Denver Metro Areas ( printable version)
East Denver metro area
Aurora Animal Care Division
303-326-8280

Arapahoe County Animal Control
720-874-6750

Commerce City Police Dept.
303-287-2844
West Denver metro area
Edgewater Police Dept.
303-235-0500

Golden Police Dept.
303-384-8045

Jefferson County Animal Control
303-271-5070

Lakewood Animal Control
303-987-7173

Wheat Ridge Police Dept.
303-235-2926

South Denver metro area
Castle Rock Police Dept.
303-663-6100

Centennial Animal Control
303-325-8070

Cherry Hills Village Police Dept.
303-761-8711

Douglas County Animal Control
303-660-7529
Greenwood Village Police Dept.
303-773-2525

Littleton Police Dept.
303-794-1551

Park County Animal Control
303-816-0732

Parker Police Dept.
303-841-9800

Sheridan Police Dept.
303-762-2211

North Denver metro area
 
Arvada Animal Control
720-898-6850

Brighton Animal Control
303-655-2091

Broomfield Animal Control
303-438-6400

Federal Heights Police Dept.
303-428-3526, Ext. 253

Northglenn Animal Control
303-288-3294

Thornton Animal Control
720-872-6012

Westminster Animal Control
303-430-2400, Ext. 4326
Here are some tips regarding how to get a hold of a stray dog:
Many stray dogs are frightened and confused; sometimes they are hurt and exhausted. The problem with panicked dogs is that most rescuers call the dog to try and get the dog to come to them... big mistake! Never call a stray dog. Don't look at it, don't pat your leg, and
don't walk towards the dog. If the dog has a skittish temperament, typically he is in the "fight or flight" mode and will be running in fear. The moment that the first would-be rescuer pats his/her leg, moves towards the dog, and says: "Come here, come here", the dog often will associate that body language with fear and will have an adrenaline rush. What you want to do instead is use calming signals and try to do something to soothe and attract the dog. Lip licking, yawning, feigning like you're eating food off the ground are such signals. Be patient let the dog come to you. If the dog keeps running,
DO NOT chase the dog, but call Animal Control.
If you were able to take possession of the stray dog:
If you take the dog to the Shelter, please keep checking in to see if the owner was found. It's not the Shelter staff's job to find the owner, nor do they have the extra time to do so. If the owner hasn't picked up the dog in 48 hours, please take action and help to find the
owner by using some of the steps described above in the lost dog section. Please post local flyers, place adds in the newspaper, Craigslist, Next door, Facebook and pet recovery sites.
Some people don't feel comfortable taking the dog they found to a Shelter. An alternative is to take the dog to a local veterinary clinic to see if the dog is micro-chipped. Many clinics perform this service for free and in many cases the owner can be found. If the dog has no microchip, call the Shelters and report that you have found a dog. Please provide them with a good description and if possible a picture of the dog. To find the owner, use the same steps described above in the lost dog section. Please post local flyers, place adds in the newspaper, Craigslist, Next door, Facebook and pet recovery sites. You might also get a professional Pet Recovery Service involved.
(Some of them offer a limited pet recovery service for free, like e-mailing to shelters and rescues, and creating flyers.)